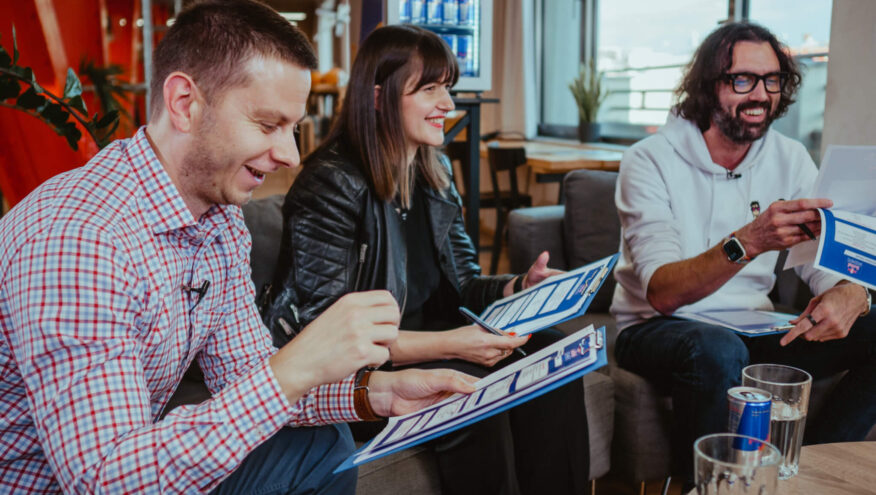 30.10.2021 | 7 min read |
by Petr Mika
Prague HubHub hosted the Czech final of Red Bull Basement
Prague's HUBHUB in the ARA Palace on the corner of Jungmann Square hosted the local finals of the university startup competition Red Bull Basement. In it, an expert jury selected the 3 best student projects that will compete with each other for the opportunity to represent Czechia in world-wide final.
Since its inception, Prague HUBHUB has been supporting local early stage startups, budding entrepreneurs and all young creative enthusiasts who want to push themselves and their surroundings further. This year, cowork HUBHUB has become a partner of many similar projects and competitions. We can mention, for example, Soutěž & Podnikej, Vodafone Nápad Roku ČR, Startup World Cup & Summit and last but not least Red Bull Basement.
Within the last mentioned competition, HUBHUB acts as a local partner providing space and facilities for events organized within Red Bull. First, a workshop led by Martin Pribyl took place in the HUBHUB coworking space in ARA Palace. The aim of the workshop was to describe to the participants the basic techniques for creating a perfect 60-second pitch of their idea. A few weeks later, namely on 26 October, the final video stream took place, also from the HUBHUB space, during which the expert jury, consisting of Petr Mára, Pavlína Louženská and Lukáš Jelínek, selected the 3 best ideas that will fight together for the opportunity to represent the Czech Republic at the global final in Istanbul.
"We are very happy to have the opportunity to work with the Red Bull brand on the Basement project. Supporting innovative student projects has been in the DNA of our coworking space HUBHUB since its inception. The collaboration between Red Bull and HUBHUB has been mutually beneficial for both parties and certainly does not stop at the Red Bull Basement project. We are looking forward to more joint projects and fingers crossed for all Czech finalists!" Petr Míka, Brand & Marketing Manager for HUBHUB Czech Republic, comments on the cooperation between HUBHUB and Red Bull.
"HUBHUB has become just the "basement" we needed to host local events within the Red Bull Basement. The coworking atmosphere there directly encourages you to create and the beautiful view from the terraces of the ARA Palace always puts a smile on your face. Moreover, the whole collaboration has been and still is going very smoothly, in a friendly spirit, and we are very much looking forward to seeing what we come up with next together!" adds Anna Vajčnerová, Student Brand Manager at Red Bull Czech Republic.