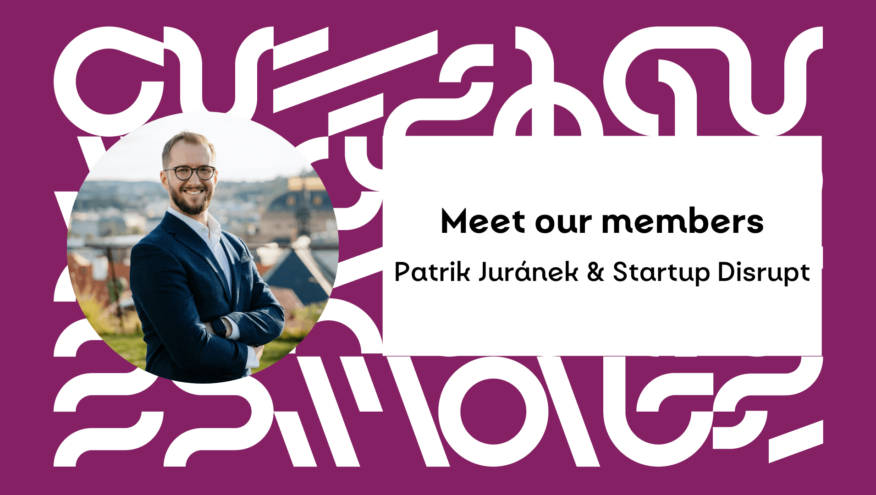 22.09.2021
by Andrea Rácz
Meet our Members – Patrik Juránek & Startup Disrupt
Almost every day our community of HubHub members grows. More and more companies are realizing that flexibility, an inspiring environment and a mutually supportive community is the right place for grow of their business. One of the latest companies we have welcomed to HubHub Prague is Startup Disrupt.
Patrik Jurának and Startup Disrupt are changing established ways of thinking
Startup Disrupt was founded in 2020 by Patrik Juránek as an entity that supports young innovative entrepreneurs in changing the "established" way of thinking in industries, products and services, in order to create a global market for startups and technology innovators.
Despite the fact that the Startup Disrupt was created at a time when the business world was shaking due to the outbreak of the global pandemic of the COVID-19, it quickly established itself in the Czech and international startup community. This is also thanks to the experienced team from the world of innovation and venture capital that Patrik Juránek has built around him. Its members have been behind global entrepreneurial communities such as Startup Grind, Founders Institute.
Why did Patrik Juránek decide to join the startup community with his own project? How to increase personal productivity? What are the benefits of working in coworking? Simona Nedeljaková, HubHub Community Manager, asked Patrik these and other questions. Patrik's answers can be found in the attached interview below.
What was the inspiration for you to enter the startup world?
I liked the energy that was circulating around the startup phenomenon. All the topics like lean canvas, venture capital, traction and so on. I equally wanted to build a safe space where all founders, geeks, enthusiasts could come and improve the world around us with their ideas, products, services. We have unprecedented talent in the Czech Republic, a vibrant international community, top researchers and great ideas. I started with the Startup Grind community and spread awareness about startups in the Czech Republic, then my team and I decided to take this game to a new, global level and built Startup Disrupt.
What is the most important thing in your business?
Commitment to our community, founders, innovators, business partners to create meaningful connections, support each other and grow together. We actively encourage innovation and don't see "disruption" as a bad word; we see it as a mechanism for a better future.
What was the biggest challenge last year and what did you learn from it ?
Transforming our volunteer model into something that is more data-driven, process-based and working with people's motivation differently than how we approached it before. Of course we made good decisions that helped us grow, but equally we made bad decisions where we lost some talent. But that's the natural process of learning and growing.
What are your ambitions for 2021?
Our ambition for 21 is to complete our community events plan with over 50 events in 4 markets and expand into 2 new markets. To increase the number of community members we can help on their journey to the top and unlock the maximum potential of their startups and companies.
What's your personal hack for increasing productivity?
Do the nitty gritty stuff first thing in the morning.  You can't avoid them, so at least try to tackle them as soon as possible so you're fresher for new challenges and opportunities.
What do you think are the biggest benefits of working in a coworking space?
What do you think are the biggest benefits of working in a coworking space?
Access to amazing people who will help you and your business grow. The opportunity to test your ideas with like-minded people and have fun playing arcade games.
How can you help other HubHub members? And how can other HubHubbers help you?
How can you help other HubHub members? And how can other HubHubbers help you?
We can help them connect with members of our community. With finding the right business partners, talent, and new ways to grow your startup or company.