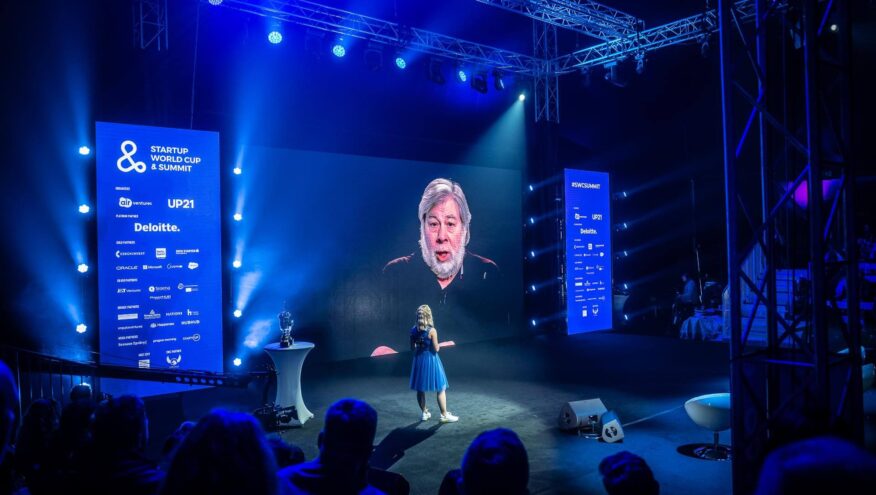 25.10.2021 | 5 min read |
by Andrea Rácz
HubHub hosted the V4 finals of the Startup World Cup & Summit
This year's SWCSummit was completely dominated by Czech projects Tatum and Readmio. The former offers a platform that is revolutionizing blockchain development. The second project makes reading for children more attractive through a mobile app by complementing storytelling with real-time sound effects.
Startup Tatum won the main prize of the jury and with it the title of European Champion. Readmio won the hearts of the audience and with them the audience award. Both projects thus continued their successful journey from the previous day, when they also dominated the regional competition of the Visegrad Four region, which took place in the HubHub coworking space inside the historic ARA Palace building in Perlová Street.
During the continental finals, nine startups from across Europe made it through from other regional rounds and associated startup competitions. Each project had four minutes for its presentation, followed by another four minutes of questions from the judges.
In the regional round at the HubHub coworking centre, the victory of the Tatum project was clear. In the continental final, however, the five-member jury also considered other candidates – for example, in the medical field – until the last minute.
But the Startup World Cup & Summit wasn't just a competition for startups. During the day, several interesting speakers, panelists and mentors took turns on the physical and virtual stage.
One of the key personalities who captivated the audience was journalist and educator Esther Wojcicki – often dubbed the "Godmother of Silicon Valley". The author of a bestselling book on raising successful people spoke about how she was once a mentor to Steve Jobs' daughter and how Steve Jobs himself often attended her classes.
Another bright personality was Kyle Corbitt, president of Y Combinator – one of the largest startup incubators in the world, and author of a software solution that can connect ideal startup co-founders (like a startup Tinder).
By far the brightest star of the day, however, was Apple co-founder Steve Wozniak.
In an unusually candid video interview, he reminisced about Apple's early days and then revealed his plans for the first time in detail with his newly founded company, Privateer Space. Through it, he would like to clean up the "mess" in space.