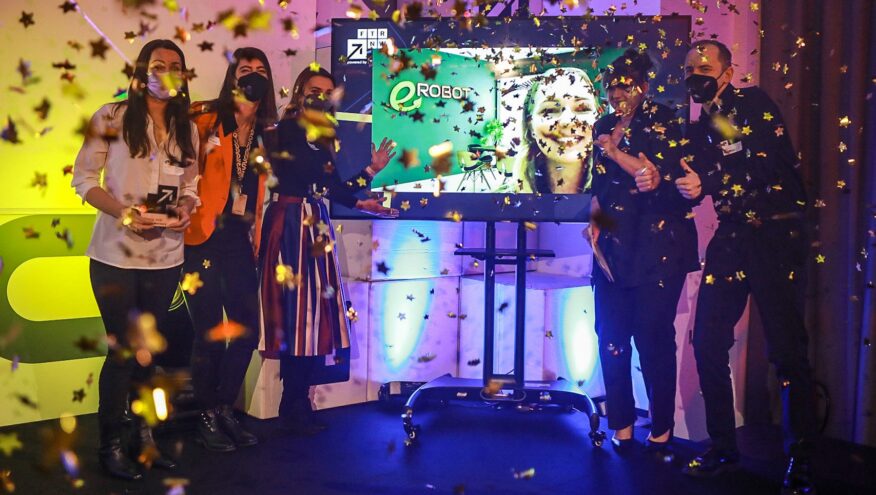 12.10.2022 | 10 min read |
by Hubhub Cowork
FTRNW 2021 brought to light progressive ideas for a better future
What an exciting evening that was! As the doors close after the 10th anniversary of FTRNW, we are ready to take another step into the future and focus on how our businesses are contributing to the improvement of society. The finest startup selection showed the out of box thinking and sketched out new areas where future businesses should – and will – go. And we are happy to help them to CONNECT_LEARN_RISE with our ever-expanding ecosystem.
The responsibility lays in our hands
Our daring mission is to grow and connect the biggest community of innovators and pioneers across Central Europe. We aim to foster brand new businesses with innovative technologies and sustainable solutions. We had drawn this path a decade ago and our successful alumni confirmed that we are heading in the right direction. Whether it is a personalized cosmetic shopping assistant that helps people find the best products on the market for their skin condition (Wewell.app), innovative food products that use alternative sources like insect proteins (FoodBugs) or locally sourced sunflower seeds (Sungurt) or an integrative platform that gives a complete overview of traffic, air, and noise pollution to municipalities (KALM:IT) the notion of innovation is rooted within the fabric of our mission. See the full list of the 10 finalists that joined our bootcamp and Startup Awards 2021 below. The community, along with our forward-thinking partners, all offer a helping hand to guide us through the newest innovation trends!
Networking with inspiring leaders
It is always a great pleasure to collaborate with partners able to enrich and strengthen our hybrid ecosystem, whether they are speakers, mentors, or VCs. The list is long and we were honored to have five incredible keynotes during the night, hosted by the captivating Kristína Korčeková.
The evening was opened by an encouraging and motivating speech by Zuzana Čaputová, the President of the Slovak Republic. Her support of progressive innovations perfectly fits our long-term goal – to shape the future and build a strong innovation ecosystem in Central Europe and beyond.
"We have to ensure that Slovakia and Central Europe don't stay behind. We will need your creativity and your dedication. But your invention and innovations also need proper support to improve our education system and a business climate that allows the best ideas to develop further or scale up when needed," Zuzana Čaputová stated.
The CEO of O2, Igor Tóth continued: "Every business has a bright side but few focus on the dark side. We can all be part of the solution to help bring back the value in the society in which we operate." Igor talked about the different campaigns a large company like O2 runs to help us use data responsibly. Not what you expect from a telecom giant and yet everything you need to hear to regain ownership of the impact our businesses have to help lift society onto a higher level.
The message was clear: from startups to multinational corporations, each of us has a responsibility to act. The Managing Director of Microsoft Czech Republic and Slovakia, Violeta Luca, shined a light on how to drive transformation and positive change at scale, using technology as an enabler for positive change. Citing Charles Dickens in the Tales of Two Cities – It was the best of times, it was the worst of times, it was the age of wisdom, it was the age of foolishness, it was the epoch of belief, it was the epoch of incredulity, it was the season of light, it was the season of darkness, it was the spring of hope, it was the winter of despair, we had everything before us, we had nothing before us – she depicted the reality in which we live right now and the urgency we all face to act. Let's hope more leaders will follow in her footsteps.
Michaela Musilová from the International Moonbase Alliance, and the Director of the HI-SEAS analog space research station in Hawaii, shared her personal experience hoping to inspire other people to follow their passions. Michaela highlighted the importance of increasing diversity across industries and how she plays her part to do so. She commented: "I make it my mission to have a diverse crew from different backgrounds, religions, individuals from the LGBTIQ+ community, people of colour, and more women because the more diverse the crew the better they are at problem-solving. They also bond better and become a space family rather than a space crew." A goal we aspire to achieve across our initiatives in Central Eastern Europe too.
To wrap up our warm-up, Artur Bobovnický, Innovations Director at the Slovak Innovation and Energy Agency (SIEA), talked about the importance of adaptation in order to last the test of time. What is the secret ingredient? Artur summarized it as innovation orientation across the top management and innovation output to the market. What we need is to push ourselves out of our comfort zone to bring about everlasting change.
Golden buzzer for the winners
After some incredible pitches and the help of an inspiring and diverse panel of judges, formed by Mihaela Pašek-Virlan (Accace), Michal Satur (Tatra Banka), Alica Pavúková (PwC), Rastislav Turek (Pex), and Lucia Pašková (CURADEN), the awaited moment of the FTRNW Startup Awards night arrived: the selection of the three finalists. Both the jury and the audience unanimously chose eROBOT as their preferred startup. eROBOT developed an automatic self-maintenance control system for industrial robots to help increase their lifespan and decrease maintenance costs and replacement. FoodBugs, the innovative Polish startup that is building awareness of the health benefits that insect protein can have on diets, was instead chosen by the international HubHub team spread across 5 countries.
The end is not in sight. There are new milestones ahead and we look forward to welcoming all 10 finalists to the HubHub community in 2022. The inspiring content will continue throughout the first quarter of the year, and it will be open to entrepreneurs across CEE. Stay tuned.
Our startup program is run by HubHub, a network of co-working spaces across Europe designed by our mother company HB Reavis.
The 10 finalists of the 10th edition of FTRNW 
Strong partners powering young businesses
This year we strengthened powerful partnerships with top brands that are fostering and boosting the growth of startups. Together, we created an outstanding community, offering a helping hand to innovators. Check them out here.
And let us thank a few of them in particular:
Venture to Future Fund is the first venture capital fund of its kind in the CEE region. It is a joint initiative of the European Investment Bank, the Ministry of Finance of the Slovak Republic and the Slovak Investment Holding.  The fund invests in Slovak innovative and progressive companies, like two FTRNW alumni: Sensoneo and AgeVolt.
Microsoft helps to remove the traditional barriers to building and growing a company by providing free access to technology, coaching, and support. It is for this reason that their technical consultants will provide free 1:1 support to our innovative ecosystem, along with free credits to build on Microsoft Azure.
Slovak Business Agency (SBA) is one of the oldest institutions in Slovakia that supports small and medium-sized businesses. It provides comprehensive assistance to entrepreneurs, and it has been one of the longest supporters of FTRNW throughout the years.
Schin & Majdúch are attorneys who provide their services in business, technology, and industry 4.0 and they represent 300+ companies, amongst which we find the FTRNW alumni Photoneo. They bring valuable and practical advice through the entire business lifecycle, from founding, through investment rounds to exits and mergers.
Slovak Innovation and Energy Agency (SIEA) is a contributory organization established by the Ministry of Economy of the Slovak Republic. SIEA helps to introduce low carbon technologies, competitiveness growth, innovative solutions, and smart specialization across the country.
Vision Ventures seeks and actively connects ideas, people, and capital for the exponential growth of a company. As a venture capital investor, the company supports ideas or companies at the beginning of their journey. Vision Ventures believes that opportunities in new technologies can make the world a better place for everyone. That's why it helps young enterprises in their successful growth.
Thank you all for the continual support.
The future is now.
CONNECT_LEARN_RISE with FTRNW.