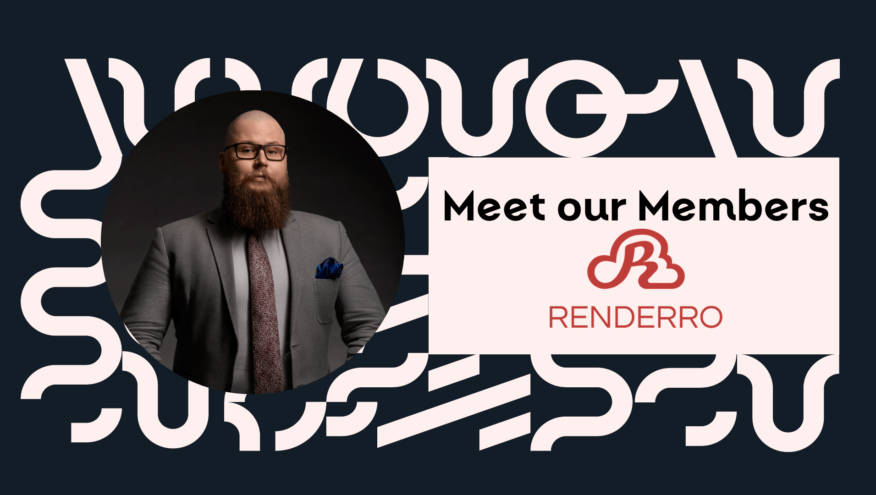 21.06.2022 | 5 min read |
by Erik Kubica
Meet our Members – Renderro!
What inspired you to create Renderro? 
Renderro was created from several elements that came together: from the need in the industry, from the spread of Cloud solutions and from the idea of standardization of the tools in the creative process.
Renderro was born on my way back from Los Angeles where I was managing the postproduction of a movie. At that time, I had already had 12 years of experience in the movie world. My speciality was post-production – a process that starts with files recorded on a modern digital camera and continues with editing, colour corrections, special effects etc. until we have a final delivery product ready – a movie or a TV show.
However, before the creatives can work their magic, at first you need to arrange the workflow and secure the right technological tools, which has always been the biggest pain point that I experienced when setting up the whole process, no matter whether I was doing student cinema or big Hollywood productions.
While I was in the US, I visited quite a few different studios in Burbank – Hollywood's most famous post-production backoffice. I was amazed by Americans' approach to standardization – each studio had the same computers, NAS storages, and even mice and keyboards. The idea behind it was that every creative, instead of learning the work environment every time anew, started working on the new project in the new studio immediately. I was already on my way to the airport and it struck me! "Damn, I need to do something like that in Poland, but BETTER AND WISER, and with the use of modern technologies. 
I started working on the idea straight away, soon I discovered a new type of graphic cards that could be used in virtualized environments. And that's how Renderro came to life – out of frustration, standardization and modern technology!
Where does the name come from?
It comes from render – a process that every creative working in modern digital technologies knows. Regardless of whether you are making a movie, podcast or 3D graphics, you will always have a render that you have to wait for. It is a long, boring and generally not very sexy process.
In order to have a shorter render, you need more powerful equipment. With Renderro, you can have the most powerful hardware that your software can carry, and as a result, you shorten the painfully long period of rendering. We wanted our tool to be accessible from any place in the world, that's why our machines are set in the cloud. Thanks to that, our product is easily scalable as well.
Why are you passionate about what you do?
Because of the people of course! Only now do I have the opportunity to build a team that will be operating in a longer time frame and there is A LOT of knowledge behind it. Hiring the right people and convincing them to stay is completely different from making a movie. The film production is always short and has a defined timeline. Although the whole process of creating a movie can take up to two years, particular stages last between 3 and 9 months – so the experience of creating a well-performing team that wants to work together for a much longer period is still new to me. Apart from that, I enjoy the energy that comes from the startup world – the people who are forever trying to develop their ideas, and keep on polishing and refining them. I love it.
What advice would you share with fellow founders to help them avoid mistakes that you didn't expect?
Renderro is a technological project. We spent a lot of time at the beginning on its development, and we validated it as much as possible. That's why my advice is:
Develop your idea all the time. Listen to your users, listen to your co-founders, investors, team, and don't assume that you know everything best. Only with the contribution of others can the idea crystallize and take its final form, so if you're able to draw conclusions, you will have a chance to create something very special and unique.
Renderro is this kind of adventure. It makes us push our boundaries and go out of our comfort zones constantly looking for more opportunities.
What would I be most surprised to find out about your business?
I don't know if you will be surprised by the fact I'm about to present, but we certainly were! At the very beginning of the functioning of our business, we made two articles in small media houses. The effect of that completely blew our minds because early adopters from all over the world, from the States to Australia, from Korea to Brazil, immediately started contacting us. We had modest ambitions directed at the Polish market, which proved a big, big mistake! What at the beginning we thought would reach a very limited audience, turned out to be an international phenomenon. You can't even imagine how much it raised our determination! It was the greatest coincidence to kick off a business.
Why did you choose HubHub as your coworking space?
We outgrew our previous location and got a little scared by Covid. We tried working remotely but after 2 months people wanted to go back to the office. There was too much going on, our staff needed a place to exchange ideas, so I started looking for it. We had an offer from HubHub and we decided to give it a go. At that moment, none of us realized it could be such a fun experience!
Being at HubHub resonates well with the mental well-being of our team. Here, you can feel that you are a startup and that's so cool. We love the atmosphere, the people who became our friends, the fact that there are other companies around doing great things, and that we can socialize in the games room too. Oh and the fact that we don't have to worry about stuff like coffee and toilet paper ourselves makes a difference.  ????