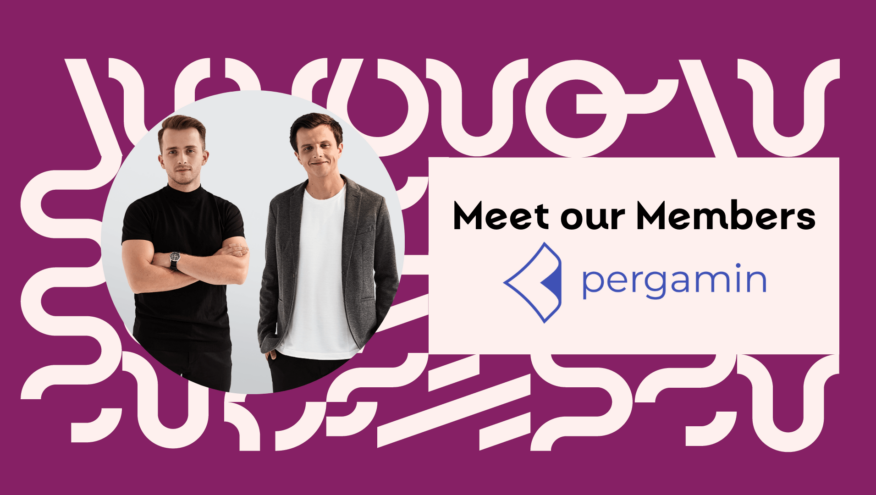 21.06.2022 | 4 min read |
by Administrator
Meet our Members: Pergamin
How did you come up with the idea for Pergamin? 
Pergamin is a solution to a long-existing problem that one of us came across working for a digital agency, which was integrated with a big media corporation. Despite its size, it had a tiny legal department, and we had plenty of campaigns, subcontractors, and freelancers to sign deals with. All those activities lead to stacks of documents that had to be generated, signed and archived. Of course there was a template to make things easier, except it didn't… Nobody knew where the latest version could be found or whether a small change would still be compliant with the company's policy. It was an ever changing and frustrating process. One of those that in the end always got stuck in the legal department, which wielded the key to the arcane knowledge but was always overloaded with work. And in the end, every document had to be printed, signed and sent by post. Routine contracts should be easier to deal with!
We decided to solve this problem with one simple tool – a digital workspace for contract management, with selve-serve templates and e-signature at its core.
How long did it take to bring this idea to life? 
It was a long process, which took us around 1,5 years before we landed in the Huge Thing Accelerator and finally started creating something meaningful. We were young and determined but we didn't have experience with creating new products. We had to rely on external knowledge, our naive enthusiasm and intuition, which may be treacherous without the right background.
What inspires you?
We couldn't convince anyone to our product for a long time. We knew that we're solving a BIG problem that frustrates many people but we couldn't get the message across. Looking at it now, with 200 companies onboard and some big names in our portfolio, it's extremely satisfying to see this progress. It means that we were right from the beginning to believe in this project and now also these companies see this added value that comes with Pergamin.
We evolved from a company that was a plan written on a piece of paper to this point, in which big companies use our tool and we think about scaling up and automating our processes.
What are your milestones?
We had an assumption to shorten the time spent on the agreement by 80% but then we realised that each agreement is different. After a quick reality check, we realised that we're dealing with very different clients, and our ultimate goal is to get rid of the repeatable work and shorten the process of accepting documents, preferably to 20% of what it initially was!
We're looking for different ways to achieve that, sometimes it's just a good module-based template and sometimes it's generating hundreds of agreements with just one click, or speeding up the process with electronic signature. Companies lose money due to ineffective procedures and lack of automation of repetitive processes and we want to help them.
We have big ambitions for the future as well. We are constantly improving the quality of the documents and at some point we want to create an algorithm that would completely automate the process of agreement creation.
The best piece of advice that you have ever  received?
1/ If you are standing in front of a tough decision, do not put it back.
2/ The faster you start talking with your potential clients and distance yourself from the idea, the better the results.
3/ Define your hypothesis clearly and do not impose your opinion while asking for feedback.
4/ Do not be afraid of rejection, denying criticism will only make you lose time that you could use to improve your product's faults.
What would surprise me about your business? 
We've been working remotely since day one.
So how did you end up in HubHub? 
We are in an interesting place right now, from a company that was dependent on the founders, we're creating a brand united by one product. We have 20 people onboard working from across Poland and having the core of our business and all 3 founders in one place, centralizes the business and helps with planning.
What are the advantages of working from HubHub 
Keeping it real: it was incredibly easy to install the printer which surprised us all, and with 21 meeting rooms it's fairly easy to find one even at the last minute.
Pergamin is a e-signature and contract management platform. Customers can automatically create, negotiate, sign and store their contracts and exchange data with other tools, such as CRM or HR management tools. Pergamin also eliminates human errors, by allowing users to automatically verify contractors' data in external databases. With built-in electronic signature it makes the contracting process completely digital and eliminates the need for printing or sending documents by post.